'U N / D i g IT Al iz ED' Online Exhibition and Artists in Residence
MOTTO: Culture and Sustainable Developement for a More Resilient and Impactful Culture Sector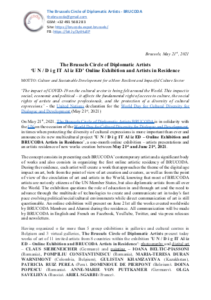 'The impact of COVID-19 on the cultural sector is being felt around the World. This impact is social, economic and political – it affects the fundamental right of access to culture, the social rights of artists and creative professionals, and the protection of a diversity of cultural expressions.' – the United Nations declaration for the World Day for Cultural Diversity for Dialogue and Development (May 21st, 2021)
On May 21st, 2021, The Brussels Circle of Diplomatic Artists BRUCODA is in solidarity with the UN on the occasion of the World Day for Cultural Diversity for Dialogue and Development, in times when protecting the diversity of cultural expressions is more important than ever and announces its new multicultural project 'U N / D i g IT Al iz ED – Online Exhibition and BRUCODA Artists in Residence', a one-month online exhibition – artists presentations and an artists residence of new works creation between May 21st and June 21st, 2021.
The concept consists in presenting each BRUCODA' contemporary artist and a significant body of works and also consists in organizing the first online artistic residency of BRUCODA. During the residence, each artist will create a work that approaches the theme of the digital age impact on art, both from the point of view of art creation and creators, as well as from the point of view of the circulation of art and artists in the World, knowing that most of BRUCODA artists are not only citizens of the UN Member States, but also diplomatic artists from all over the World. The exhibition questions the role of education in and through art and the need to advance through the multitude of technologies to create and communicate art in today's fast pace evolving political/social/cultural environments while direct communication of art is still questionable. An online exhibition will present on June 21st all the works created worldwide by BRUCODA Members and Alumni during the residence. All communication will be made by BRUCODA in English and French on Facebook, YouTube, Twitter, and via press releases and newsletters.
Having organized o far more than 5 group exhibitions in galleries and cultural centres in Belgium and 3 virtual galleries, The Brussels Circle of Diplomatic Artists present today works of art of 11 invited artists from 8 countries within the exhibition 'U N / D i g IT Al iz ED – Online Exhibition and BRUCODA Artists in Residence': photography and digital art – CLAUS SIEBENEICHER (Germany) and painting – IOANA BELTIC-PIASSONI (Romania), POMPILIU CONSTANTINESCU (Romania), MARIA-TERESA DURAN WARNIMONT (Colombia, Belgium), GULISTAN KHAMZAYEVA (Kazakhstan), PATRICIA RUIZ PEREA (Peru), DOMINIQUE DE PIERPONT (Belgium), DOINA POPESCU (Romania), ANNE-MARIE VON PUTTKAMER (Germany), OLGA SAVELIEVA (Russia), ARIEL SGARBI (France).
The Brussels Circle of Diplomatic Artists is a platform and network for artistically creative members within the Diplomatic Corps in Brussels. Founded in 2015 and led until 2018 by ELMAR PALTZER, led since 2018 by Pompiliu Constantinescu, BRUCODA is inclusive and open to all fields of artistic creativity. With more than 45 Members and Alumni spread all over the World and always more than 15 active members, The Brussels Circle of Diplomatic Artists is today one of the largest circles of its type in Europe. By supporting and encouraging the diplomatic artists in Brussels, it connects them, as well as with other artists and friends here in Belgium.
Through this project, The Brussels Circle of Diplomatic Artists tries to create a better artistic world for artists and encourage the creation and dissemination of art in cultural circles, in the sense of the MOTTO: Culture and sustainable development for a sector more resilient and impactful culture.