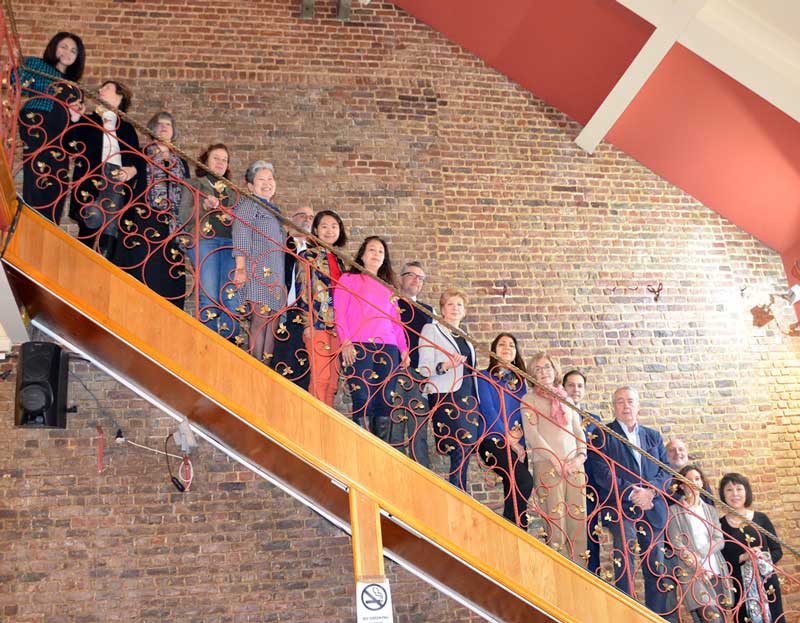 Mission statement of The Brussels Circle of Diplomatic Artists.
The Brussels Circle of Diplomatic Artists is a platform and a network for artistically creative members within the Diplomatic Corps in Brussels. It is inclusive in its nature and open for all fields of artistic creativity.
In supporting and encouraging diplomatic artists in Brussels, it connects them with each other as well as with other artists and friends here in Belgium. ALL Diplomats and Friends who are artistically creative and serious about their work are welcome in the Circle.
The Circle's aim is to foster collaboration, cooperation and support amongst its members and promote goodwill between the Diplomatic Community and the people of Belgium.
The Brussels Circle of Diplomatic Artists is envisaged to be more than just an event-organizing group… First ideas speak of an artist salon, a jour fixe, exhibitions featuring individual artists, workshops, get together's and much, much more ! A lively Circle of Diplomatic Artists and Friends…
To this effect the Circle intends to organize various activities. The upcoming exhibition/event is therefore not an end in itself. It is a step on the way, aiming to show all the creativity present in the Circle.
Support team
Brussels Inspirations
During the years that I've lived in Brussels, I have been astonished to find out that many of my friends—who have spent their entire career lives here—are headed for their home countries or elsewhere after retirement. I kept on asking them why.
Doesn't Brussels, as the capital of Belgium and the capital of Europe, have qualities that make it attractive to stay here?
I would argue that Brussels is small but cosmopolitan. Brussels has a fantastic location, truly at the heart of Europe, 80 minutes to Paris or two hours to London by train and a one-hour flight away from most major European cities. It boasts a high standard of living, an easy way of life, good restaurants and bars, colorful markets, famous Belgian beers, Brussels chocolates and so much more.
Brussels is an international melting pot without being a mega city. According to a 2016 report by the Brussels regional government's tourism agency "Visit Brussels", Brussels is home to 180 nationalities, with 108 different languages spoken, more than 55% of residents have foreign nationality at birth, and the city is home to 5,400 diplomats—the highest number in the world.
As foreign diplomats, we find that Brussels is extremely convenient for us and for our families: a great place to settle down and get around. On the other hand, our life in Brussels sometimes feels a little anonymous and less connected.
Against this background, it was indeed a wonderful initiative of the Community Liaison Office of the German Diplomatic Missions in Belgium, to gather a number of German diplomats and accompanying spouses, who share a common interest in painting. They came together last year in Brussels and decided to start an art group with the aim of exchanging ideas regularly and inspiring each other to paint. That was the beginning of "The Brussels Circle of Diplomatic Artists". The first exhibition with the title "Expressing Impressions" involving 8 participating artists took place in May 2016.
As the curator, I am delighted to see that the spirit of "The Brussels Circle of Diplomatic Artists" has been carried on by the Community Liaison Office of the German Diplomatic Missions in Belgium and that the circle has grown this year, with 35 members from 18 nations!
Currently, 24 artists from 13 countries are participating in this year's exhibition. They are Alex Dampney and Eve Lucas from the UK; Alix Fresson, Ariel Sgarbi, Houria Boutobza, Martine Zens, Noémie Villedey from France; Andres Labi from Estonia; Anita Schwab, Christine Schadek, Claus Siebeneicher, Renate Kohl, Thomas Gabriel, Thomas Weich, Yvonne Mesterhazy from Germany; Elisabetta Siggia from Italy; Gulistan Khamzayeva from Kazakhstan; Henri Savenay from Belgium; Iman Helmy from Egypt; Lin Chen Boeckle from China; Patricia Bernar from Spain; Patricia Ruiz Perea from Peru; Pompiliu Constantinescu from Romania; Svanhvit Valgeirsdottir from Iceland.
It's clear that many are inspired by Brussels' charms: its polyglot society and complex history, the multi-lingual environment, the EU-subculture, the art nouveau architecture, the surrealistic masters, the urbanity and natural life, the three-region-conflicts in one country or even one city, the 200 rainy days in the year, the clichés and the stereotypes…
Brussels inspires us in so many different ways. This is why we chose the working title "Brussels Inspirations" for this year's exhibition. With paintings, sculptures, photographs, installations, digital techniques and collages, the works represent different periods and experiences in the artists' live, and each artist has dedicated at least one piece to Brussels.
This exhibition is an encounter between Brussels and the diplomatic artists living here, an encounter between diplomatic life and art. Henri Matisse said: "Creativity takes courage!" This exhibition is proof of that courage. Some participating artists are joining an exhibition for the first time, and I hope that this is a good start for them. We see Brussels as an encouragement and an inspiration!
My sincere thanks go to the Community Liaison Office of the German Diplomatic Missions in Belgium for the concept and coordination of this initiative, Welcome to Belgium for supporting the initiative wholeheartedly from the start, the Commissioner Brussels for their continued support throughout, as well as ING Bank Belgium, Group S, Symbio, Atelier29, all for their financial and inspirational support, and many individual contributors who have helped to make this exhibition happen.
Some artists who will soon go to their next foreign posting, in Europe, in Africa, in Asia, and in Latin America, have told me that they are thinking of following the example of the "The Brussels Circle of Diplomatic Artists" and organizing similar activities there. Isn't that the greatest inspiration of all, that they—and indeed all of us – have found in Brussels!
(Curator's word for the exhibition in 2016)
Foreword of the President of Welcome to Belgium – Sophie Tilemans –
It was a luminous idea to create a circle that would encourage contacts and forge friendships among the creative members of the Diplomatic Corps. When your career obliges you to change countries every few years, you need to make the most of every posting from the very beginning. What better way than to get together with like-minded colleagues and, in the case of Belgium, Belgians, to express yourself and your talents.
The Brussels Circle of Diplomatic Artists has come a long way in a very short time, proof that it filled a void. At its timid beginnings with a few participants from just one Embassy, a year later, it has 35 members of 18 nationalities with 24 them presenting their work at this exhibition.
We at Welcome to Belgium, an extension of the Ministry of Foreign Affaires, have been most enthusiastic in our support from the start, just as we support all initiatives that benefit the members of the Diplomatic community in Brussels and help to make their stay in our country more interesting and enjoyable.
We fervently hope that the Circle will become a permanent fixture of diplomatic life in Brussels and that not only will it grow in numbers but will greatly extend its activities.